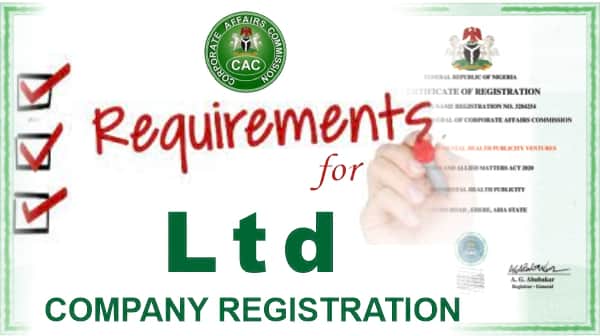 1) Two Proposed Company names
One main name and one alternative name. This is usually the first prerequisite, as it is needed first, for the name search. Once the company  name is approved, these other details can follow
NOTE In reading  this, whenever Details of a person is mentioned, it include the following

Surname,
First name,
other name,
Phone number,
Email,
Gender,
Occupation,
Residential Address (Country, State, Lga, City/Town, House Number, Street Name),
Work Address (Country, State, Lga, City/Town, House Number, Street Name),
Scanned Copy of ID card]
2) COMPANY DETAILS
The company details include the following
Email Address (any active email is allowed)
Company Phone Number
Registered Company  Address (State, LGA, CITY/TOWN, House or Building number, Street Name)
Branch address if any
3) OBJECTS OF MEMORANDUM
These are simply lines of statements stating the objectives of the company. It can be found in the companies Memorandum of Association  M.O.A
4) Details of at least one witness
At least one witness to the existence of the business is needed. The witness can be any individual from 18yrs and above,  chosen by the directors. Anyone who can stand and testify in case of a legal tussle in future. These details are listed in the note above
5) Article of association
This is where the company defines all terms and regulations that will guide the business. Companies that don't yet have a concise "Article of association", can ask the agent handling his/her company registration to use the default article of registration written by CAC. You can also hire one of our expert writers to write it for your company. The document is written in different parts and sections like this below.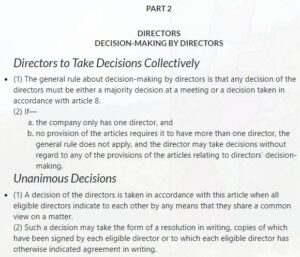 6) Directors Details
For a Private Ltd Company, at least one director is mandated and a maximum of about 50 directors. Refer to note above for the director details required
7) Secretary Details
This is optional for very small companies. Refer to note above
8) Total Share Capital
The total share capital for the company is ought to be stated. The minimum for a Private Ltd Company is #10000.
9) Share Holders Details
Here you are expected to provide the details of every shareholder involved in the business with their percentage share.  Refer to note above.
10) Person with significant control PSC Details (OPTIONAL)
PSC is optional.  It is an option that incorporates any other person who is not among the Directors but can control the affairs of the business. Such persons can make appointments, suspend individuals etc. The level of authority assigned to this individual would is decided by the directors during the registration process. 
11) Cost
The cost of registering a Private Limited Company (Ltd) in 2021 ranges from #35,000 to #50,000. It depends on which agent is handling the registration. With us, it costs only #38,000 from start to finish (This can be paid in 3 instalments). As CAC accredited agent, we can assist you in getting your company duly registered.
Now you know what is involved. You can also, check out the requirements needed to register a Business Name, or Public Limited Company (PLC), or NGO'S and Churches or even get a professional website for your company
  We recommend this for you