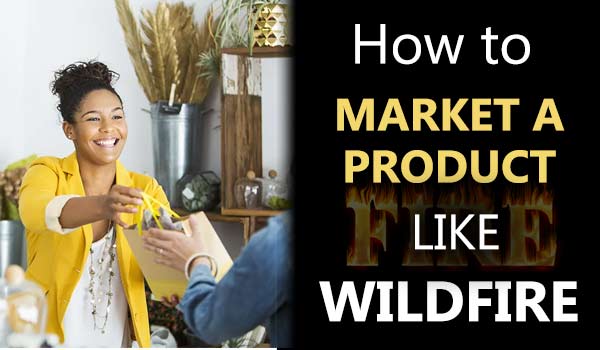 In this post, we highlighted, with examples, 12 proven ways to market your product like wildfire. These strategies, if carefully followed, can take your business / company from making few thousands of naira to making millions within a short period of time.
#1 Don't tell people what you do.
Tell them what your product can do for them. The truth is, no one really cares about you, or your product. Rather, they are more interested in what you or your product can do for them. It's all about benefit.
Eg, If we, zfrica, as professional logo designers had brought your attention here just to tell you that we design professional logos, you may not want to read the next paragraph. But our mission is to help businesses grow, so we offer you helpful growth tips, then it's left for you to know that a business that expects growth needs a professional logo.
#2 Don't tell people how your product is better
To see your product market like wildfire, Tell people how your product solves their problems. Let them know how it can make their own business run faster, cheaper, with less headache etc.
Examples:
McDonald's doesn't sell food, they sell convenience
Tinder doesn't sell an app, they sell dates
Airbnb doesn't sell stays, they sell cheaper travel
Know what your product does and market that exactly
#3 Don't make your customer feel dumber than you.
Stop the big grammar and all those ambiguities today. Make your customers feel understood by you. Take this quote from David Ogilvy to heart:
"The customer is not a moron. She's your wife".
Most customers abandon a purchase because they find it too hard to understand what is being sold. Try to be friendlier and simpler.
#4 Don't focus on what your product costs, focus on the ROI your product brings.
In simpler terms, ROI (Return of Investment) implies the after gains a customer will obtain from purchasing (or investing) in a particular product.
If your product/service really offers ROI, then focus on letting your customer know the ROI other than concentrating on the cost of the product.
Eg. We design websites for clients at affordable costs. But our focus is not just on its affordability, rather you need to know why you really need a website in the present day business world.
  We recommend this for you  
#5 If you want to sell a $50 product, don't put it next to a $5 product
Put it next to a $500 product. 'Anchoring' is a very valuable concept if you're in marketing. If you're not familiar with anchoring:
"Use of the anchoring effect in marketing takes advantage of a flaw within the human mind, which means we do not consider the value of an option based on its intrinsic value.
Instead, we compare different offers against one another." This is the very reason why you will buy a bottle of coke #500 in a top restaurant, but cheaper at the roadside.
#6 Don't study marketing tricks
Study human nature. Your environment should serve a purpose here. A marketing trick/strategy that works in Asia or America, might not work in Africa. You need to understand the psychology and behaviors of your target market.
#7 Make use of Testimonials to market your product
Use testimonials to show your potential customers what how your products has helped other people. Social proof is #1 in sales, especially now when consumers are more aware of advertising than ever before. Here at zfrica.com, most of our new clients comes from what they hear our old clients say about us.
Testimonials + social proof should always be in your marketing arsenal.
#8 Don't solve many problems for many people.
Solve one specific problem for one specific group of people.
#9 Don't sell the product, Sell the click.
This is a useful tip if you market your products online. Eg, social media, email, etc. Before your product is purchased, a click is required. Hence, do your best to market the click then sell the product.
Joe Sugarman, a legendary copywriter, put it this way.
The goal of the first sentence is to get them to read the second sentence (and so on).
Sell the click before you sell the product.
#10 Don't make your ads copy look like a copy
Make your ads copy look like content. Howard Gossage, an ad legend, summarized it this way.
"Nobody reads ads. People read what interests them, and sometimes it's an ad".
Your advertising shouldn't look like advertising.
#11 Don't just study marketers.
Study persuaders:
>magicians
>doctors
>lawyers
>politicians
Persuasion is everywhere.
If you only learn from other marketers, you'll sound like other marketers, and being different is the only way to stand out.